3 Ways To Get More Towing Leads
August 1, 2022
No matter how long you've been operating your towing business, continually generating a steady flow of towing leads is essential to grow and sustain your business.
Today, the towing industry is characterized by high competition and rising costs. For these reasons and more, towers must find ways to show up and stand out. Especially when potential new customers are searching for services while also working to expand their current customer base and serve new clientele. If done effectively, towers can expect to see:
Increased revenue
More consistent work
New opportunities for business growth
To find out how industry leaders are generating towing leads, we sat down with Brad McIntosh of Sandy's Towing & Recovery in Dayton, Ohio. As the co-creator and co-host of the Tow Business Podcast, Brad certainly knows a thing or two about towing marketing . And he generously shared his first-hand knowledge and roadside assistance industry expertise.
Here's what he had to say—and why every tower should follow these top three lead generation tips: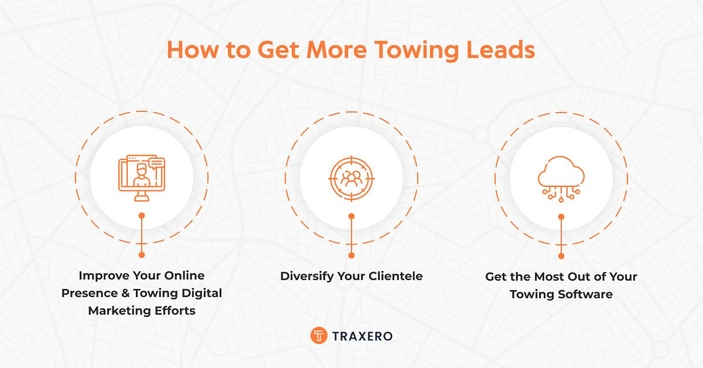 1. Improve Your Online Presence and Towing Digital Marketing Efforts
In 2022, one of the single most valuable lead generation tools at your disposal is your business' website. If you don't currently have one, building one should be at the top of your priority list. A website will serve as your towing business' online storefront. It's also a launch pad for all your online tow truck marketing efforts.
Moreover, cash-call towing customers Google your services in their time of need. Your business must be in the top search results for local towers to capitalize on these types of in-the-moment towing leads.
Paid Search Ad Campaigns
A great digital towing lead generation tool you can utilize is pay-per-click (PPC) ads and search engine marketing (SEM). Incidentally, strong PPC and SEM campaigns are proven methods for generating leads and cash calls.
Google is by far the most popular search engine and platform for launching and managing paid search ad campaigns. With over 92% of the market share for search engines, don't neglect having your business represented on Google's search platform.
"I like paid search because it's trackable," Brad shared. "I can 100% relate my cost to revenue, so I can tell if it's not working and therefore not put my money in it. It's pretty easy so I like that. I like to know what's working and what's not."
Search Engine Optimization (SEO) For Your Website
Having strong SEO performance is still the primary way to win in digital marketing. This is what will boost your business to the top of Google's search rankings.
Also, positioning your towing business as the first option that potential customers call when in roadside distress. A strong effort on the SEO front will do much of the heavy lifting when it comes to generating new towing leads.
"Towing is a unique industry in terms of search," Brad explained. "It might be important for a furniture store [for example] to have good search optimization. But people are not on the side of the road in the middle of traffic needing a couch."
"[For towing], if you don't show up first, customers will not make towing calls by sitting there and scrolling through hundreds of different Google search results pages… so if you don't show up first, you're behind."
Set up a Google My Business account so potential leads can locate your most important business information. Additionally, make sure your phone number and hours of operation are front and center.
Once you have a website up and running, consider engaging in thoughtful content marketing. Some examples include articles, infographics, and blogs that provide value for your potential customers.
Social Media Towing Advertising And Organic Content
Having a presence on social media platforms such as Facebook and Instagram can dramatically increase brand awareness for your business. Thus, it provides you a space to create content that represents your brand and answers common towing-related questions. It also allows you to engage with local community members and become a top-of-mind solution for potential customers.
Running towing ads on social media is also a cost-effective way to generate more towing leads. Target potential customers based on your service location as well as pages they've followed, like those of your competitors.
2. Diversify Your Clientele
An effective strategy for growing your towing business and generating more towing leads is diversifying the range of clients you serve.
Establishing new industry partnerships within additional markets or making your business more readily accessible creates a more consistent flow of leads.
Develop Your Tow Industry Network
The towing industry has undergone a good deal of technological change within the last five years. Nowadays, many of your potential partners are integrated. Motor clubs are integrated with certain towing dispatch software. The towing software can be integrated with the marketing company that manages your online reviews. The call center that works with you may be integrated with a certain vehicle manufacturer.
"Everybody is integrated with each other now… there are many decisions that get made and relationships that have to happen before our company gets that call," said Brad.
Now more than ever, your industry network and relationships are vital. There are many relationships that have to be established before a job call finally gets placed to your business. If your towing business is not featured in the call center software, you're essentially not even on the radar to receive calls from them.
Become familiar with potential industry contacts. These include:
call centers
insurance company roadside assistance offerings
manufacturer warranty roadside assistance
companies signing contracts with towing service providers
Also a major networking tip: Don't forget to attend local or regional tow shows and conventions near you. These are great places to make essential business connections and discover new opportunities to serve your area.
Become a Member of Motor Clubs and Stay in Good Standing with Call Centers
It's relatively simple to become a service provider for motor clubs. Get in contact with local and national motor clubs and create relationships with them. The same applies to towing call centers.
Regularly check with contacts at these centers to ensure that your towing business is in good standing with them. Also make sure you're considered a reliable service provider for roadside assistance. It's also essential that your business is up to date and included in the latest towing dispatch software used by your partners.
3. Get the Most Out of Your Towing Software
Once you've started to get more towing leads, the next logical consideration becomes how well equipped you are to respond to the increase in leads, both in terms of fleet management and capable dispatch software with the best functionality for efficient job management.
This is where a tow industry partner like TRAXERO can help your business thrive. TRAXERO offers access to a FULL suite of tried and tested, industry-leading towing business software solutions that are proven to help businesses become more efficient and able to capitalize on increased towing lead traffic—all in one place. But don't just take our word for it:
"Tracker [from TRAXERO] is the brain, heart—whatever you want to call it—for our business," shared Brad, who has been using this product for over 30 years.
From fleet management to enterprise-level towing dispatch software, to digital payment processing, auction management, overall towing business management solutions, and more—TRAXERO has got you covered with the best software for the road ahead.
Learn more about our products.
Ready to explore custom integrated solutions ideal for growing and streamlining your business? Contact TRAXERO today for a software consultation or with any questions you might have for the TRAXERO team.
FAQs About How to Get More Towing Leads
Still have questions about generating towing leads? We've got you covered.
What are towing leads?
A "towing lead" often refers to a cash call customer, or customers you don't normally tow for or have a regular business relationship with. These are generally motorists in distress and in need of roadside assistance.
How do you get a towing call?
Calls will often come in via three avenues:
Call centers that field customer calls from members of motor clubs or vehicle roadside assistance programs, (i.e either manufacturer warranty or auto insurance providers)
Existing and ongoing customer relationships
Directly from cash-call leads and motorists in need of roadside assistance
To properly capitalize on and maximize these calls, respectively:
Ensure your relationships with local or regional call centers are in good standing and up to date so they can find you when they need you
Reach out to create relationships with local police departments and businesses (repair facilities, body shops, etc)
Make sure that your business can be found online and is easily reachable (contact information and hours of operation readily available on a Google My Business profile)
How to get more towing business?
To get more towing business, work towards diversifying your clientele and serving a wider array of customer types.
How can I promote my towing business?
Focus on investing part of your marketing budget into paid search ads
Make sure your website is user and SEO friendly, can collect and turn leads, and allows for customers to schedule tows
Create organic content for your website and social media channels
Attend local tow shows and reach out to roadside assistance call centers to offer your services and expand your network